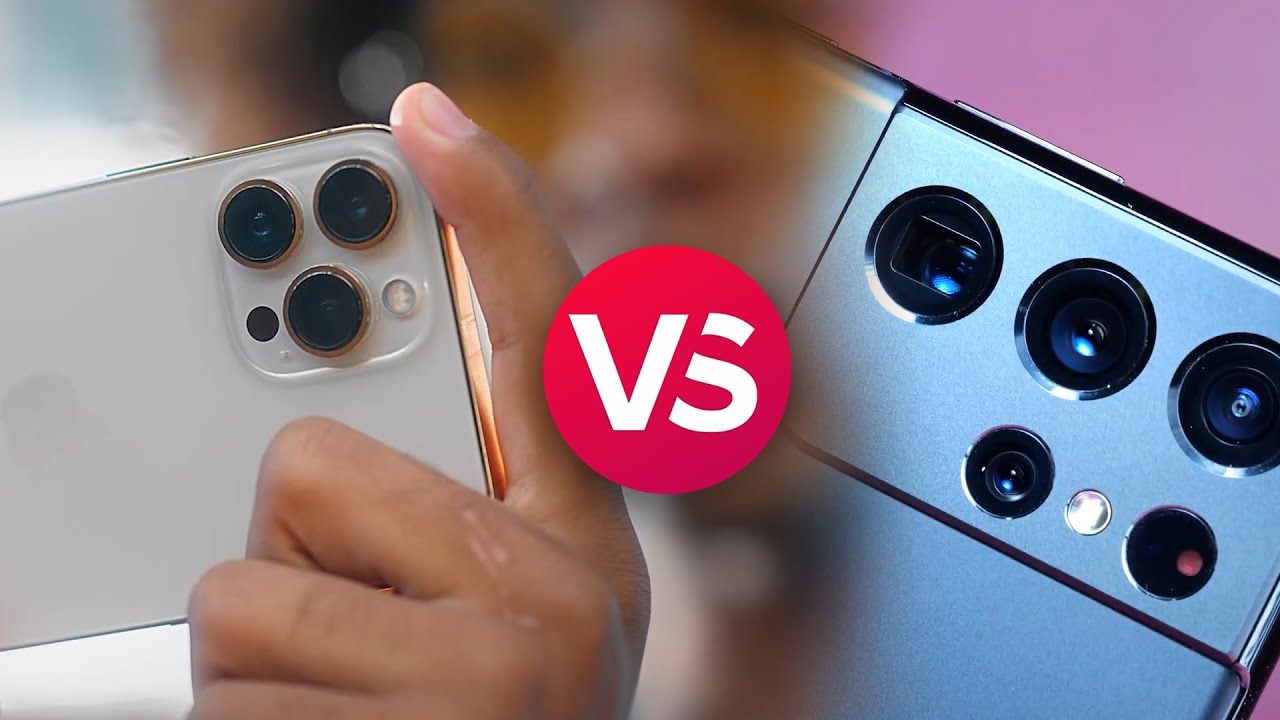 Apple has released the new iPhone 13. If you are looking to buy a new phone, you might be wondering how the top of the line, iPhone 13 Pro Max compares to Samsung's flagship Galaxy S21 Ultra 5G. Let's put these two phones, head to head to see how the specs stack up.
Price
One of the biggest questions with a new phone is price. And as always, that changes depending on which storage option you go for Apple's iPhone 13 Pro Max starts at $1,099 for 128 gigabytes of storage. It goes up to $1199 for 256 gigs, and $1399 for 512 gigs, and for Apple's new one terabyte storage option, you'll pay $1,599.
Unlike Apple, Samsung doesn't have a one terabyte S21 Ultra. So there are three models to choose from. The retail price is a little more than the iPhone. $1199 for 128 gigabytes of storage $1249 for the 256 gig model, and $1379 for 512 gigabytes of storage, but this phone has been out for a little while now. So, it is worth checking around for deals.
Also read: iPhone 13 Mini - Is this tiny phone right for you?
Display
When it comes to display the iPhone is just a fraction smaller than the Galaxy. The iPhone 13 Pro Max has a 6.7 inch super retina XDR display with a 2778 by 1284 pixel resolution at 458 ppi. It also has Apple's new Pro motion feature, meaning it has an adaptive refresh rate that moves between 10, Hertz, and 120, Hertz, depending on what you're doing.
So you'll get a higher refresh rate when you're watching video or playing a game, but lower for reading a static screen, which saves on battery life. But if you are hoping for a notchless iPhone, bad news, the notch is still there.
By comparison, yes S21 Ultra has a 6.8 inch dynamic and OLED display with a hole punch cut out, and a resolution of 3200 by 1440 at 515 ppi, like the iPhone, Samsung also has a variable refresh rate that can shift between 10 and 120, Hertz.
Camera
The big feature people look for in their new phone cameras like the iPhone 12 Pro phones before the iPhone 13 Pro Max has 312 megapixel cameras on the back, a wide lens at F 1.5 An ultra wide angle lens at F 1.8 and a telephoto lens with 3x optical zoom at F 2.8,
For the first time the Pro Max also gets the ability to do macro photography, Thanks to the ultra wide lens design, and all the cameras now feature night mode on the front the pro Max has Apple's true depth camera with a 12 megapixel sensor, and an aperture of f 2.2.
S21 Ultra ops apples three lenses with a quad camera array, there's a 12 megapixel ultra wide camera F 2.2. A 108 megapixel wide angle camera at F 1.8 and 210 megapixel telephoto cameras, one with a 3x optical zoom, F 2.4 And a second with a 10x optical zoom, at F 4.9.
Samsung also has the 100x space zoom that's a combination of optical and digital zoom with a bit of processing thrown in to improve detail and sharpness and that final sensor on the back is what Samsung calls laser autofocus for faster focusing on the front, hiding under the hole punch cut out.
The S21 Ultra has a 40 megapixel camera with an aperture of f 2.2 The other big camera consideration is video with the iPhone 13 Apple has thrown into new shooting modes to lower video fans cinematic mode, which is on all iPhone 13 models, keeps focus on moving subject and automatically switches focus between subjects while shooting.
The iPhone 13 Pro Max also has a Pro Res mode for capturing up to 4k video at 30 frames per second. Outside of that Pro Res mode, the iPhone Pro Max can record 4k video at 60 frames per second on the front and rear cameras, and it also offers Dolby Vision HDR video recording.
Samsung's S21 Ultra can also record 4k up to 60 frames per second, and it has HDR 10 Plus recording. And unlike the iPhone, it can shoot in 8k at 24 frames per second.
Battery
In terms of battery life, it doesn't disclose battery capacity during the iPhone event, Apple said the iPhone 13 Pro Max would offer two and a half hours more battery life over last year's pro Max.
According to apple that equates to up to 28 hours of video playback and 95 hours of audio playback, but once we get our hands on this phone will be doing its own testing to see how accurate those claims are.
The Galaxy S 21 Ultra has a 5000 MA hour battery. In test, the phone got 22 hours and 57 minutes of continuous video playback in airplane mode with the refresh rate set to auto 120 Hertz.
Processor
Both phones offer 5g connectivity and top of the line processes. The iPhone 13 Pro Max uses Apple's latest a 15 bionic chip, while the S 21 Ultra has a Snapdragon 888 Processor, or x and Rs 2100 Chip, depending on your country.
Water Resistance
Both phones are water resistant, rated at IP 68 But the iPhone was tested to a depth of six meters for 30 minutes. While the galaxy is only rated for a depth of 1.5 meters for 30 minutes.
Available Color
iPhone 13 Pro Max comes in graphite, gold, silver, and a new Sierra blue color. The S21 Ultra is available in Phantom black and Phantom silver in the US. So there you have it, the nitty gritty on the iPhone 13 Promax versus the Samsung Galaxy S 21 Ultra 5G.
But remember, these are just the apple specs on paper.
Src: Cnet Youtube